Product Search
Product Information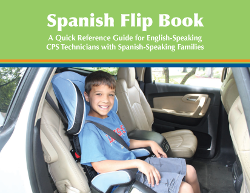 Spanish Flip Book - electronic download
A quick reference guide for English Speaking CPS Technicians with Spanish Speaking Families.
Price: $0.00
This product is delivered in electronic format. You will receive a link to this item via email once your order has been processed.
Special thanks to the Kansas Department of Transportation for this great Resource!
This is an electronic resource, please enter "1" for the quantity. You will only receive 1 link to download.