Product Search
Product Information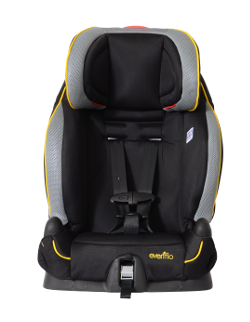 Car Seats - Evenflo Secure Kid 300 *TANGIBLE-REQUIRES POVERTY FORM*
Secure Kid Harnessed Booster Car Seat, 2 pack
Price: $0.00
Secure Kid 300 factory select version
Extended use from birth to harnessed booster mode. The Evenflo® Chase® LX Harnessed Booster features an innovative headrest design that allows the vehicle belt to self-adjust to your child's height while in booster mode. Enhanced side walls and head support provide comfort and safety for the child. Sporty style elements appeal to children, as will the integrated cup holders with flexible stripe design. The seat accommodates children ranging from 22-110 lbs. This combination booster provides an exceptional value for a seat with such a wide array of innovative features. Extended Use - Converts from 5-point harness to vehicle seat belt use as child grows (2 seats in 1) Simple adjustability with upfront harness fitting and 2 crotch buckle positions 5 Position Adjustable Head Rest – Allows this seat to grow with your child Machine-washable car seat pad keeps the seat looking clean Side Impact Tested! Meets or exceeds all applicable Federal Safety Standards AND Evenflo's Side Impact Test Standard Designed and tested for structural integrity at energy levels approximately 2X the federal crash test standard Energy absorbing foam liner provides added safety & comfort Equipped for LATCH and tether systems Carton Dimensions (inches):18.25" H x 21" D x 36" W - Inches Carton Dimensions (cm): 46..35 H x 53.34 D x 91.44" W - CM Assembled Product Dimensions (inches): 20" W x 19" D x 27.7" H inches Assembled Product Dimensions (cm): 50.8 W x 48.25 D x 70.3 H cm Product Weight: 18.43 lbs. (8.35 kg) Shipping Weight: 21 lbs. (9.52 kg) Model Number: 3081198 UPC Number: 0-32884-17825-4 Packaging: 2 per Carton FOB: Piqua, OH Pattern: Factory Select


Maximum quantity order of seats is 24. Seats are coming in cartons of 2. Order exactly the seats you want (10 seats means 10 seats, not 10 boxes of 2 for 20 seats).