Product Search



<<< Previous

1

2 3 Next >>> Products in/for Department/Vendor

Activity Book - I'm Safe! in the Car - Creole

I'm Safe! in the Car Activity Book - English/Spanish

I'm Safe! in the Car Activity Book English version with Parents' Pages

MINI Activity Book - I'm Safe! in the Car - English - half the regular size

This Road Warriors Safe to the Xtreme Activity Book teaches pre-teens about occupant protection and car safety.

Ride safe and enjoy the adventures of road safety in this 24-page activity book.

6-page full-color 5.5x8".5" "The Visionaire: The Super Senser" activity book

2.25"x10" 2-sided bookmark that encourages everyone to always buckle up.

2.75" x 8.5" bookmark with child restraint laws and booster-usage guidelines

Bookmark encouraging youth to use safety belts.

2.75" x 8.5" bookmark containing safety belt best practices.

Brochure with NHTSA best practices for child restraints and booster usage. English side 1, Spanish side 2.

4-page brochure of NHTSA statistics and CPS tips. English side 1, Spanish side 2.

Two-sided trifold brochure for the Florida Occupant Protection Resource Center.

Brochure with safety belt information targeted toward teens / young adults.

Bilingual safety belt brochure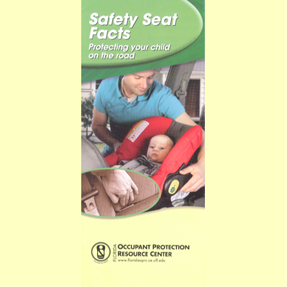 Tri fold brocure Safety Seat Facts

Tri fold brocure Safety Seat Facts spanish

Secure Kid Harnessed Booster Car Seat, 2 pack

Convertible with 50 lb FF weight limit. Does not come with head/body pillow.

Convertible with 65 lb FF weight limit. Includes a head/body pillow with each seat.

Simple steps for car seat installation - paper sleeve - 2014 version

Simple steps that could save a baby's life. Includes instruction for rear-facing car seat installation. Meant for instructional usage by CPSTs; not giveaway to public.

8.5x11 2-sided handout of NHTSA Booster Seat Installation Checklist. Side 1 English, Side 2 Spanish.

8.5x11 1-sided infographic handout of NHTSA Car Seat Recommendations.
<<< Previous
1
2
3
Next >>>